Diwali festival is a celebration of homecoming – the homecoming of soft pauses, cleaner corners, dancing feet, anklets jingling, glasses clinking, stomachs rumbling from all the sweet indulgences, and spoken letters of greetings and rooted gestures. The scented flowers of the Alstonia tree remind us of the opaque winters that went by, leading its magic onto the sheer festivities to come woven in winter 2022.
It's the time of the year when the summers have begun to get smitten by pleasant breezes. The change in the weather has become one with the vibrance of long-awaited festivities
A festive yet therapeutic makeover of the home 
The most treasurable nuance of this time is that it translates everyone's hectic routines into rushed joys of togetherness, parties, and gifts. The traffic feels musical, and late-night parties produce ripples of laughter through the yawns in the morning. This rush holds an innate ability to bring a sense of change in many lives, a break from the monotony of Mondays and weekends. How about we break out of the monotony by introducing soulful elements to our home decor and aesthetic palates?
We have put together five home decor ideas for Diwali, inspired by the notion of homecoming! They are all feasible and accessible and have an inherent element of personalization.
1) Get your current favorite word written into fairy lights
We all have that one word we resonate with within the waking moment. The word evolves as we evolve. It could sometimes be the word you use too often naturally or one that feels inspirational to you. This time, instead of the usual string lights, maybe get your word customized on lights. It will make for a heartfelt piece of decor and will always remind you of the Diwali you listened to your heart and how it all got beautiful eventually. The customization is readily available on all major e-commerce portals.

2) Engrave your cultures into your blank walls 
As a society, we get constantly inspired to read deeply into our roots and nitty-gritty of our religious epics, folklore, and wise ancestral sentiments. How about getting your most worshiped and cherished excerpts from Ramayana, Bhagavad Gita, Geetanjali, and more framed for your walls? Light up your walls with the wisdom that guides you in the dark!
3) Brighten up your work desk
Given the pandemic era that shook us, many of us now have work-from-set-ups at home. It will be a beautiful idea to light it up and add newer colors to it as part of your house adoration for Diwali. You could add diaries with tassels and hand-made pages, florescent colored folders, floral art pieces, and much more! Dilli Haat seems like the perfect place for you to visit for shopping.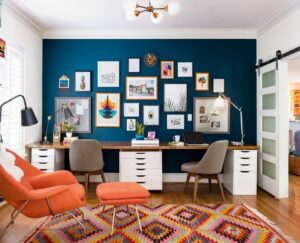 4) Scented candles
Classic scented candles cannot be classy and trendy! It is time you got that candle you have wanted ever since the one you had got entirely utilized. Sweet-scented corners are irreplaceable, and your heart knows that!
5) Replace your kitchen essentials with more popped-up colorful ones
Sometimes the little things can bring about beautiful changes to how our homes feel. For instance, replacing your kettle with a bright yellow kettle with folklore art printed on it will brighten your tea or coffee set for Diwali.
This Diwali, fall in love with your instincts, style them up and celebrate little things, little details that get fabulously woven in the most profound ways.